Do you want to link your Link WhatsApp and Facebook? Doing so has many benefits, such as creating a stronger connection with your followers, customers, or fans.
To set it up, follow the step-by-step instructions provided below. Additionally, we have included valuable tips on how to interact between Facebook and WhatsApp Business to ensure you get the most out of the feature.
Linking your apps will help you drive traffic from your Facebook page to your WhatsApp Business account, allowing you to engage with your audience and build a stronger brand.
Also read: Whatsapp Hacks
Preparing to Link WhatsApp and Facebook
Before you start the linking process, there are a few things you should do to prepare.
2.1 Check Compatibility
Firstly, check that your WhatsApp and Facebook accounts are compatible for linking. To do this, ensure that:
You have the latest version of both WhatsApp and Facebook installed on your device.
You have an active account for both platforms, using the same phone number for WhatsApp as you use for Facebook.
2.2 Update WhatsApp and Facebook
If you don't have the latest versions of WhatsApp and Facebook installed, update them through the respective app stores (Google Play Store for Android devices and the App Store for iOS devices).
2.3 Backup WhatsApp Data
It's always a good idea to backup your WhatsApp data before linking your accounts. This way, you can easily restore your messages, photos, and other data if something goes wrong during the linking process. To backup your WhatsApp data, follow these steps:
Open WhatsApp and go to Settings.
Tap on Chats, then Chat backup.
Choose whether you want to include videos in the backup (this may take up more storage space).
Tap on Back Up Now to start the backup process.
Link WhatsApp to Facebook from WhatsApp
To link your WhatsApp account to your Facebook, follow these simple steps:
Make sure you have the latest version of WhatsApp installed on your phone.
Open the WhatsApp Business app and tap "More options" (Android) or "Settings" (iOS).
Tap "Business tools" and select "Facebook & Instagram".
Log in to your Facebook account and choose the fan page you want to link to WhatsApp.
Tap "Connect WhatsApp" and you're all set!
You'll now see a WhatsApp button on your Facebook fan page.
Also read: How to Share Your WhatsApp Status on Facebook
Connect your Facebook page with the WhatsApp From Facebook Business Manager
Let's connect your Facebook fan page to WhatsApp Business! First, create a business page for your business on Facebook. Then, follow these simple steps:
Log in to Facebook and go to the fan page you want to connect.
Click on 'Settings' and then select 'WhatsApp' from the options on the left.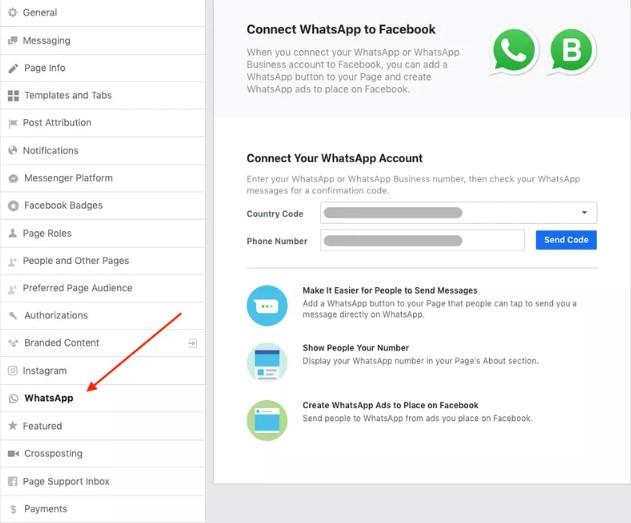 Enter your phone number and choose your country code. Click on 'Send code'.
Once you receive the code, enter it and click on 'Confirm'.
Congratulations! You're done.
Also read: How to Fix WhatsApp Unable to Connect Verify Issue
How to Unlink Whatsapp And Facebook
Do you want to disconnect Facebook from WhatsApp? Here's how you can do it:
Open WhatsApp Business app
Go to "Settings" or "More Options"
Tap on the linked Facebook account
Select "Remove WhatsApp"
Confirm by tapping "Remove"
That's it! The Facebook-WhatsApp link has been removed.
Also read: How to Fix WhatsApp Contacts Not Showing? Try These Easy Fixes
Final Thoughts:
Linking your WhatsApp and Facebook accounts can be a great way to streamline your social media experience and make it easier to stay in touch with your friends and family. By following the steps outlined in this article, you can link your accounts quickly and easily, while keeping your personal data secure.
Also Read: How to Fix the "Can't Post on Facebook" Error
Also read: How To Use Facebook Live To Reach More Customers
Also read: Remove or Disable Reels on Facebook App
FAQs
Can I link my WhatsApp account to multiple Facebook accounts?
No, each WhatsApp account can only be linked to one Facebook account.
Will my Facebook friends automatically become my WhatsApp contacts when I link my accounts?
No, you will need to manually add your Facebook friends to your WhatsApp contacts list.
Can I unlink my WhatsApp and Facebook accounts?
Yes, you can unlink your accounts at any time by going to the Linked accounts section in your WhatsApp or Facebook settings.
Will linking my WhatsApp and Facebook accounts affect my privacy settings?
No, linking your accounts should not affect your privacy settings on either platform. However, it's always a good idea to review your settings and adjust them as needed.
What should I do if I encounter issues while linking my WhatsApp and Facebook accounts?
If you encounter any issues while linking your accounts, try the troubleshooting steps outlined in this article. If these steps don't work, contact WhatsApp or Facebook support for further assistance.